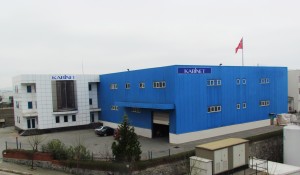 Promar Yapı Ürünleri Sanayi İç ve Dış Ticaret A.Ş. Inc. Co was established in 1995 based in Istanbul Turkey, our factory is built on 5000 m2 operated by 95 employees with production capacity of 140.000 units annually.
Promar is enjoying a network of 340 dealers all around Turkey gaining trust of customers, and being well reputed brand in the nation market.  Since then Promar stepped forward to become number one producer in term of quality and innovated designs which helped us to pave the way to international markets with advanced standards and services.
With 20 years of manufacturing experience in shower enclosures sector we accomplished with our experienced R&D team great reputation with widest product range in the sector containing 19 series of 1000 different designs. our products are reflecting beautiful, and exclusive designs. Today we are considered to be one of the richest shower enclosures producers in options and wide selections across the nation even our ability and flexibility to customize models for special projects also OEM for well-known brands in sanitary wares sector world -wide ensuring best taste and quality satisfying our different kind of clients taste.
Promar is unique brand that is providing Digital printing on tempered glass, stainless steel applications, glass dividers and doors, laminated glass applications, chrome on brass or different colors, aged profile applications. We are exclusive luxury brand with products being used in very important projects all around the globe.
Our quality is being checked and experienced through our test field with 4 stages before being delivered, all models are tested for more than 100000 punch open/close test of bearing wheels' hinges profile, waterproofing, and glass crashing resistance of 50 Kgs hit. All approved and certified for long life cycle, and still continuing to develop and improve.